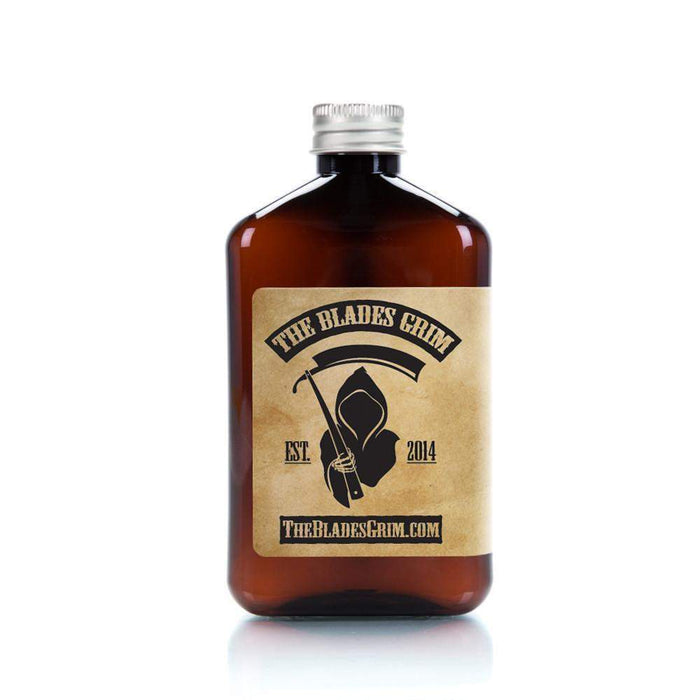 Smolder Pre-Shave Oil - 8.45oz - By The Blades Grim
The Blades Grim - Pre-Shave Oil
Scent: Smolder
8.45 fluid oz
Made in the USA
The Blades Grim Pre-Shave Oil is an essential step prior to shaving.
Enjoy a luxurious and comfortable shave with our Blades Grim Smolder Pre-Shave Oil. This pre-shave oil will help lift and soften your stubble/hair giving you a nice smooth shave while our specially crafted oil also treats your skin. This is the measure of a great pre-shave oil (how well it cares for your skin as well).    
The scent is our much loved Smolder.  It is a warm and toasty mix of venezuelan tonka, orange peel, mandarin, coriander leaves and star anise.

The Ingredients of Smolder Pre-Shave Oil:

Ricinus Comunis (Castor) Oil

Prunus Americana (Apricot) Kernel Oil

Tocopherol (Vitamin E)

Fragrance: Smolder
Directions

Add 3-4 drops of oil into your hand and rub evenly into the desired shave area.


MADE IN AMERICA