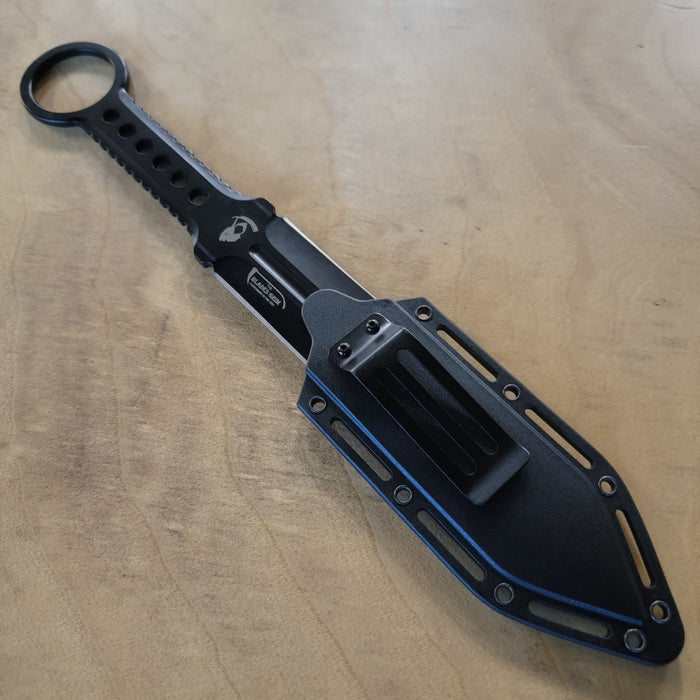 LIFETIME BLADE WARRANTY
FREE LIFETIME SHARPENING

The Blades Grim Boot Knife - The Boot is a finely crafted fixed blade full tang boot knife designed for those who need a dependable blade for any challenging task. It is perfect for outdoor activities such as hunting, camping, and hiking. This knife is designed to be a reliable tool, capable of providing swift and clean cuts also strong enough for prying.
The Boot features a durable 8 and 1/4" blade made from 1065 German surgical steel, which is known for its strength and ruggedness. With a width of 1 and 1/8". This blade has been crafted to withstand harsh conditions and will undoubtedly be a trustworthy investment. The blade is 3.4 oz in weight so its light and easy to pack.
This blade features a strong and light weight (1oz) kydex sheath. The sheath is designed to be as formidable as the blade, providing an ultimate protection for the blade and keeping it secure when not in use. You can easily tuck the knife in your boot or attach the sheath to your belt for easy carrying - providing easy access when the situation calls for it.
The Blades Grim has also ensured that the Boot knife comes shave ready sharp straight out of the box. This level of precision edge means you can put the blade to use immediately. Whether you are cutting through cardboard, tent ropes, or food prep, you can trust this knife to deliver the results you need with ease.
The Blades Grim is a reputable brand known for its premium-quality knives and exceptional customer service. The boot knife is one of our latest products to date, delivering everything you could ask for in a fixed blade knife. It is a product that you can trust and one that simply gets the job done.
The Blades Grim boot knife – The Boot is a fantastic tool to use. Its durable and reliable nature makes it perfect for outdoor activities or satisfying your everyday needs. With its 8 and 1/4" blade and kydex sheath, you can achieve precise cuts in any conditions, knowing that the blade and yourself are both protected efficiently. You can take on anything with The Blades Grim – The Boot.