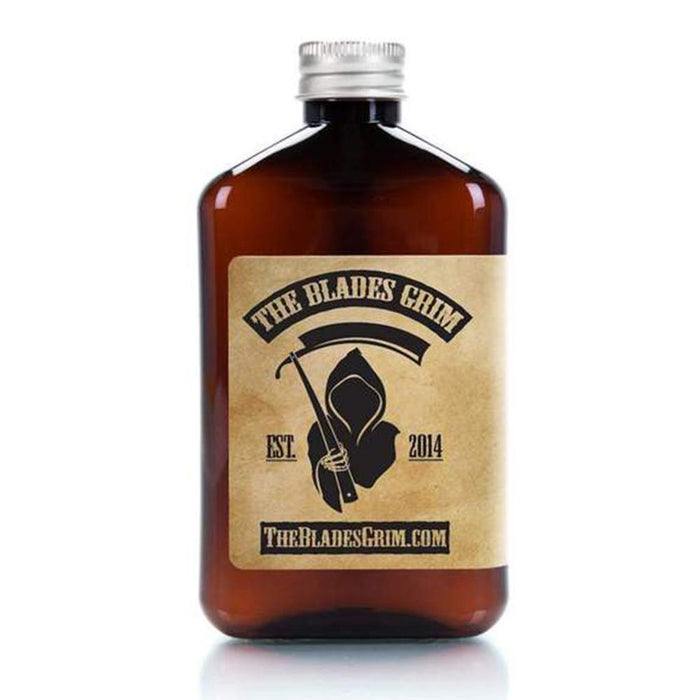 Smolder AfterShave - 8.45oz - By The Blades Grim
The Blades Grim - Aftershave
Scent: Smolder
8.45 fluid oz
Made in the USA
Aftershave is an essential concluding step to a great shave.  The Blades Grim Aftershave is specifically formulated to give you a clean and comfortable conclusion to your shave.
Enjoy a luxurious and comfortable shave with our Blades Grim Smolder Aftershave. This aftershave will help cool and calm your freshly shaven skin.  This is the measure of a great aftershave (how well it cares for your skin after a shave).    
The scent is our much loved Smolder.  It is a warm and toasty mix of venezuelan tonka, orange peel, mandarin, coriander leaves and star anise.

The Ingredients of Smolder Aftershave
Aloe Vera Juice 

Witch Hazel Distillate

Glycerin

Polysorbate 20

Optiphen (Preservative). 

Fragrance: Smolder
Directions
Add 3-4 drops into your hand and rub/splash evenly into the desired shave area. Needs to be shaken before each use.

MADE IN AMERICA