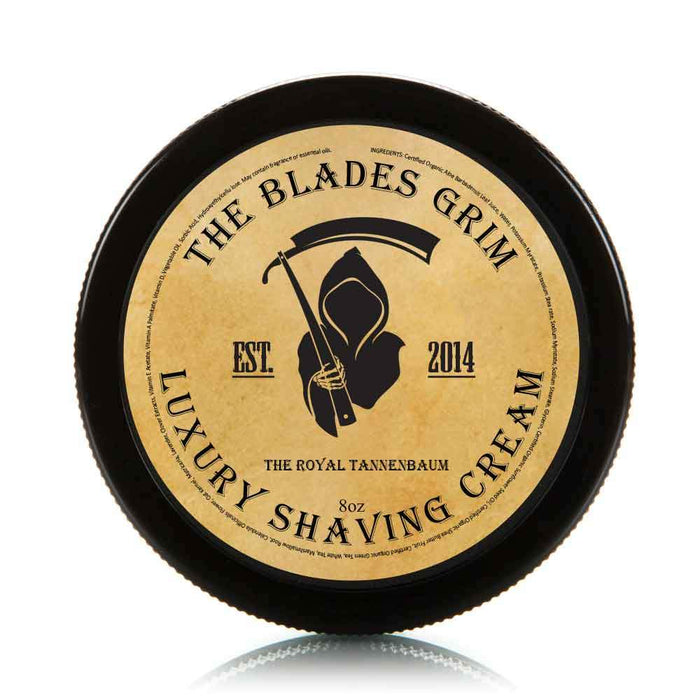 The Royal Tannenbaum - The Blades Grim 8 oz Luxury Shaving Cream
The Blades Grim Luxury The Royal Tannenbaum 8 oz. Shaving Cream
The Blades Grim The Royal Tannenbaum shaving cream comes ready to use in an easy to access wide mouth container. Our The Royal Tannenbaum shave cream is Hand Poured and Mixed in Sandpoint, Idaho. Made from organic compounds, this luxurious shave cream produces a very thick and creamy lather. The Royal Tannenbaum shaving cream is infused with botanical extracts to soothe and nourish your face while providing a cushioning of dense lather and lubrication for a close comfortiable shave.
Ingredients: Certified Organic Aloe Barbadensis Leaf Juice, Water, Potassium Myristate, Potassium Stearate, Sodium Myristate, Sodium Stearate, Glycerin, Certified Organic Helianthus Annus (Sunflower) Seed Oil, Certified Organic Butyrospermum Parkii (Shea Butter) Fruit, Certified Organic Oleifera (Green Tea), Camellia Sinensis (White Tea), Althea Offininalis (Marshmallow) Root, Calendula Officinalis Flower, Avena Sativa (Oat) Kernel, Chamomilla Recutita (Matricaria), Lavandula Agustifolia (Lavender), Trifolium Pretense (Clover) Extracts, Vitamin E Acetate, Vitamin A Palmitate, Vitamin D, Vegetable Oil, Sorbic Acid, Hydroxyethylcellulose. May contain fragrance or essential oils.
We believe that you will find our The Royal Tannenbaum shave cream a pleasure to use. Thank you.