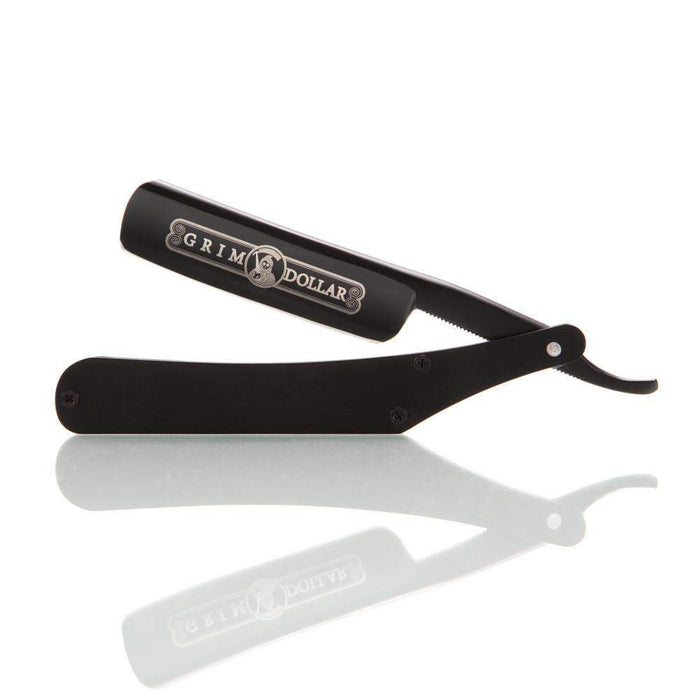 Black Grim Dollar Straight Razor In Black Stainless Scales
~ Black Grim Dollar Straight Razor In Stainless Scales ~
This 6/8" round point classic cut throat straight razor. Professional barbers only use 1 blade! So should you for the best shave possible. Not only is this one made from real high carbon steel, but it's been hardened. That's right, it's been through the proverbial trial by fire. Short story: hardened steel holds its edge, unlike those "display" razors. The 6/8" blade is easy to maneuver & see. The bottom jimps gives you a good grip. The round point won't inadvertently stab you. At less than 1/6 the price for the same quality shave as a Dovo, Thiers Issard or others it cannot be beat.
3" x 6/8" Hardened Carbon Steel Blade is Easy to Judge Angles, Strop & Hone

Care and Use Instruction Page

Black Stainless Steel Scales!

Grim Dollar Straight Razor

Free Lifetime Sharpening With Optional Hone Service Purchase - You Only Pay Shipping
Optional Premium Shave Set
This set is comprised of a few of our proven, best selling items, and contains essentials you will need for a great straight razor shave! "Smolder" is The Blades Grim's most popular scent that anyone will be sure to love!
Set includes:
Double Sided Strop with Metal Clasp
Smolder Hand Poured Shaving Soap - By The Blades Grim
Satin Tip: The Purest - White Synthetic Hair Shaving Brush
Shaving Brush Travel Case
Straight Razor Coffin
Wet Shaving How To Guide
*When this razor is sharpened, it's common for hone-wear to appear along the spine of the of razor